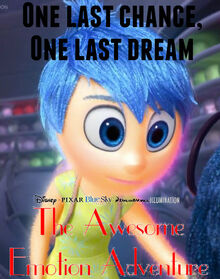 [Joy watches sadly within the submarine as her home is destroyed]
Joy: [first lines] My home. It's gone! I feel something inside, it's like, the opposite of happiness! I must stay positive. [she struggles within herself to remain positive] Bubblegums! Butterflies! [she looks out the window and sees more fallen debris from her destroyed home] Cotton candy!
[Joy begins to cry and Junior goes over to comfort her]
Junior: Gosh, I'm so sorry, Unikitty. Do you wanna sit down and talk about it?
[he points to the double decker couch he's build behind them]
Missing Link: What the heck is that?
Junior: It's a double decker couch, which seemed like a good idea at the time, but I now realize it's not super helpful. But it does, you know, it has cup holders, seats flip up with coolers underneath.
[they all look at him for a moment]
Missing Link: You are so disappointing on so many levels.
North: Why are my pants cold and wet?
Moana: Ew!
North: Uh...
[suddenly the sub starts to fill up with water]
Joy: The walls are crying!
Buzz Lightyear: We're falling apart at the seam!
[as the submarine starts to fall apart]
Missing Link: This is not how Batman dies!
[as the submarine fills with water Emmet starts to drown]
Moana: Emmet! Hold on! Hold on!
Junior: Wyldstyle!
Moana: Deep breath! Deep breath, everybod-
[suddenly as the submarine sinks it explodes.]
Several Bad Puns Later...
[we see Joy, Moana, & Junior in the water and getting up to the surface]
Joy: Woo-hoo! Everyone, we did it! [she turns and sees that Missing Link, Buzz Lightyear, & North are not there] We… Missing Link? Buzz Lightyear! North! [Joy looks down the cliff to see they were dead in the explosion] I'll try, I promise.
French Narrator: [crying] 15 minutes later...
Joy: OK, If I were Sadness, where would I be? [Joy falls over as she does an impression of Sadness] Oh, everything is awful and my legs don't work. And you have to drag me around while I touch all the… [Joy suddenly sees all the memory orbs Sadness has touched, leaving a trail so she starts following them]
French Narrator: Just then...
[Joy grabs a giant french fry and she gets ready to do a trick]
Moana: Imagination.
[Moana hits the giant french fry with her oar and Joy does a trick and she licks her finger and thumb to get the salt out of her hand]
French Narrator: Later...
Joy: We gotta get you to...
French Narrator: 346 minutes later...
[Joy then grabs hold of Moana, & Junior and Phango, Lord Shen and the Robots' Crab Machine got hit by the water]
Crab Machine: Oof!! Ugh!! Huh?
Moana: Yahooooo!!!
Crab Machine: Hey! Hey!!...Did you like the song?
Joy: Hang on.
[Joy, Moana, & Junior getting out of the underwater buliding and getting on Joy's 1 day apartment]
Moana: We're alive.
Joy: Sadness, it's up to you.
Moana: We're aliv-ugggggggggggggggggggggh
Sadness: Me?
Anger: Sadness?
Fear and Disgust: Sadness?
Sadness: I can't, Joy.
Joy Yes, you can. Everyone, needs you.
Junior: Alright, head in the game, Sadness.
Sadness: Okay. [Sadness touches the lightbulb inside the console and is successful in removing the idea which fixes the console and everyone is saved]
Moana: You saved everyone.
[Sadness beckons Joy over, the two simultaneously touch the console button, which then creates a new core memory that's a mixture of Sadness and Joy which then recreates a new Family Island]
French Narrator: The Next Day
[Begin Montage]
[Moana, Joy, Fear, Sadness, Disgust and Anger are given a new makeover, Junior, now sporting a "Emotion" emblem, seems psyched as well, in the plane, they watched an insane game show, then we see all the Lego citizens opening their window and yelling, then everyone else parks in exactly the same way, they wave and smile to everyone as they walk down the street]
Dory: Guido, look! Ferraris and tires! Let's go!
Joy: (impressed) Hey, look at this.
[after the credits, we see the crab machine still upside down in the underwater building]
Crab Machine: Shiny, I'm so shiny... Didn't help me though, did it? Still upside down here, just need a little push. Can we be real? If my name were Sebastian and I had a cool Jamaican accent, you'd totally help me. You would, you know you would.